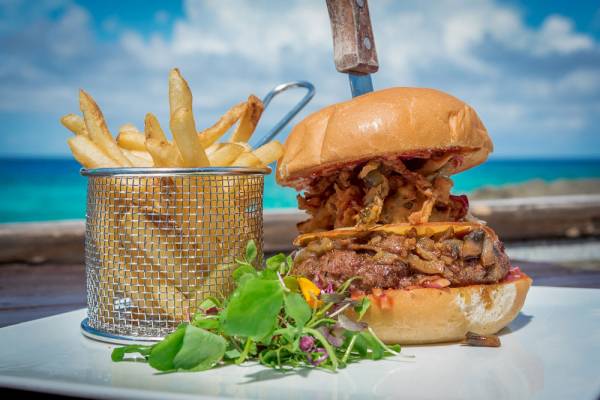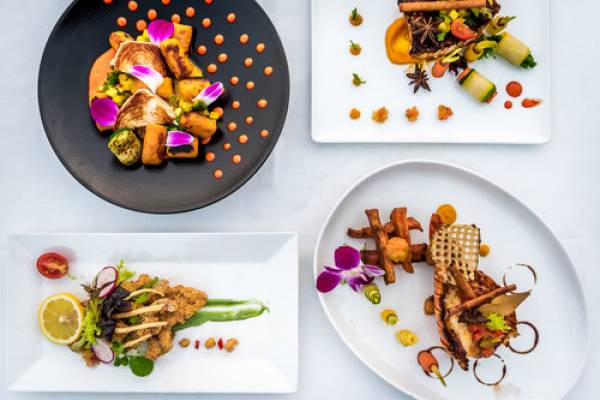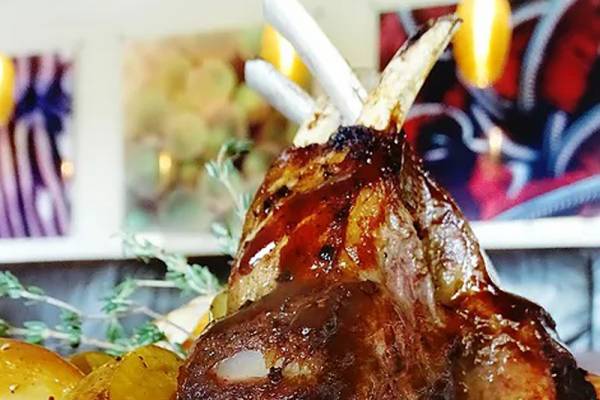 Dining Out  on Seven Mile Beach
Here in Cayman you'll find an avid mix of rustic restaurants, high-end eateries, and the likes all embracing the growing trend of sustainability; sourcing their ingredients from local farms and waters whenever possible.       
Over the years Cayman has earned the reputation as the "culinary capital of the Caribbean". With over 200 restaurants to choose from it's easy to see why; Cayman is constantly reinventing itself and the buzzing food scene is no exception. With the long list of restaurants on island, you could spend a few weeks sampling all the flavors Cayman has to offer. 
As there is limited time, here's a few of our recommendations, from authentic Italian restaurants to waterfront wonders - these are some of the best places to while away lazy lunches, enjoy alfresco afternoons and savor some of the most enchanting evenings you'll ever have....
Please browse the Explore Cayman website for a vast list of restaurants with their websites and contact information www.explorecayman.com.
If you're still looking for restaurant ideas, pick up a copy of Good Taste Magazine or visit www.caymangoodtaste.com.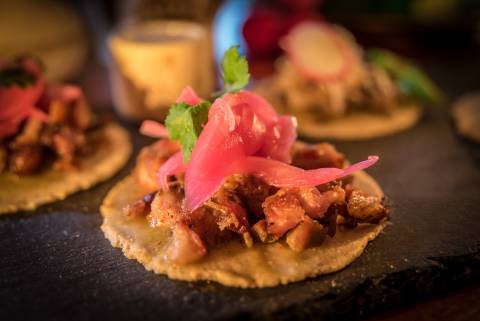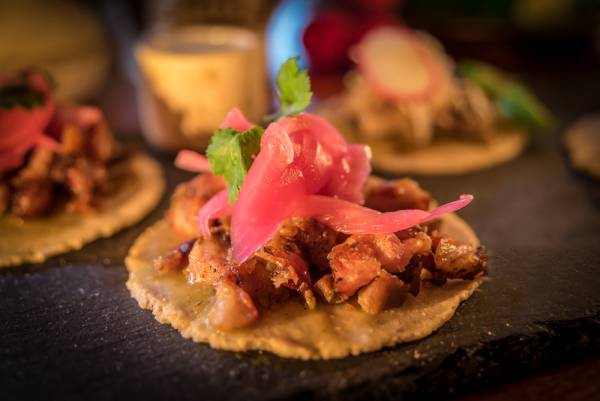 Agua Restaurant & Lounge - Camana Bay
Irresistible ceviche, including their unmistakable tuna tartare, and Cayman Style fresh catch still take top billings on the refreshed menu. This hip new seafood restaurant now located in Camana Bay is a reflection of the success of restaurateurs Walter Fajette and Cristiano Vincentini. The casual yet seductive bar is just far enough away from the main dining room to not interfere with dining room service.Friendly service, comprehensive wine list, and fantastic new menu, cement Agua as one of Cayman's best restaurants. Visit www.agau.ky for reservations.
Union Bar & Grill  -  Camana Bay 
Union Grill is Camana Bay's newest gastro destination for premium steaks, grills, fish and vegetarian plates with upscale bistro food. Set on the Crescent with marina views, Union features a very chic interior space and a long marble bar - perfect for cocktails. There's outside dining, lazy weekend breakfasts, Jazz nights on Thursday and a luxury lobster menu on Wednesday. Union calls itself a casual fine dining restaurant with a warm welcome awaiting all its guests.   Visit www.unioncayman.com or call (345) 640-5660 for additional information
Macabuca - Waterfront Tiki Bar
A popular go-to for locals who lust over cold beers, this Cayman tiki bar provides the ideal chill out day or night thanks to its great drinks roster and waterfront setting. The food is wholesome and served up fast, boasting an all day menu including local conch, calamari, buffalo wings, paninis, and killer fish tacos. www.crackedconch.com.ky/macabuca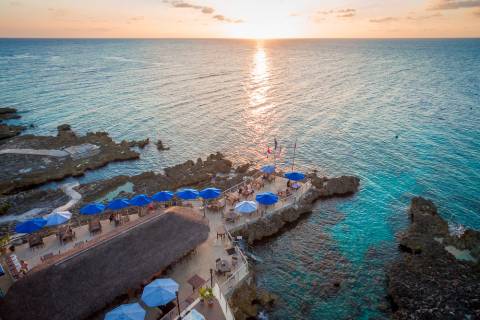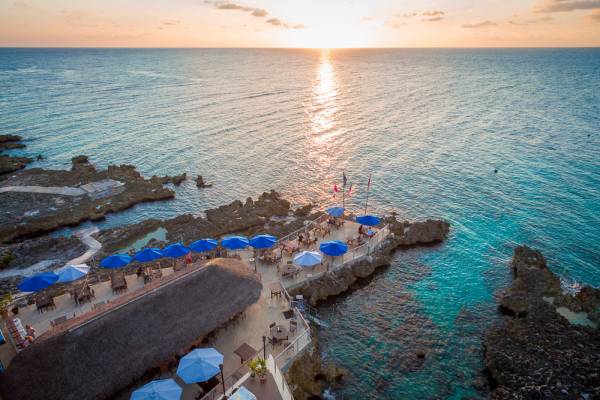 Ragazzi Ristorante & Pizzeria
Authentic Italian Cuisine; It is all about good food, love, friendship and family. With its vibrant colors, authentic wood burning pizza oven and central location, it has become a meeting point for friends. Visit www.ragazzi.ky
Luca Restaurant
LUCA Restaurant presents an impressive contemporary Italian menu in a sleek upscale interior and canopied patio with breathtaking views of the infinity pool to Seven Mile Beach and the Caribbean Sea beyond.Reservations are highly recommended. Visit www.luca.ky or  call 1 345 623 4550 
The Falls Steakhouse 
The Falls Steakhouse presents one of the most unique and innovative menus ever seen. Not only does every entrée include a complimentary martini, highball (with soda), or beer, you also get to choose which vegetables and starch you prefer-plus each steak dinner has a choice of six different sauces. Call  1 345-945-4755 or visit www.thefallssteakhouse.com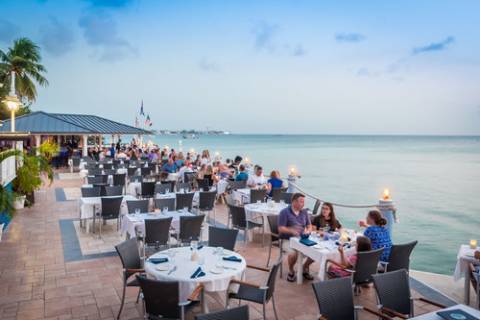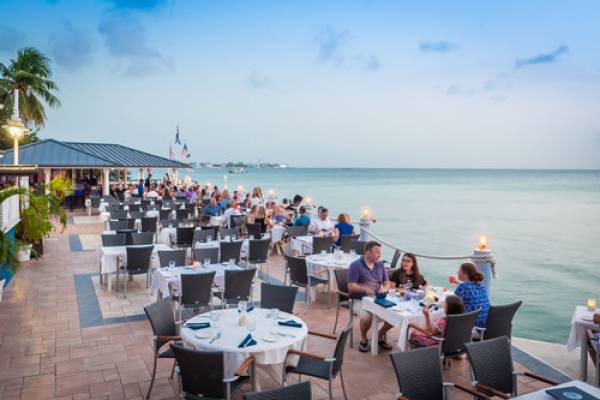 The Wharf - Premier Waterfront Dining Grand Cayman
As the sun dips below the horizon, the tarpon come out, and the evening entertainment dials-up for a magical Caribbean night under the stars. Ports of Call bar offers happy hour from 4pm - 6:30pm 7 days a week - fantastic cocktails and oceanside bar, need we say more?   www.wharf.ky
Blue Cilantro Restaurant
Fine dining east meets west fusion cuisine; Elegant Indo-Caribbean.Call 945-4372 www.bluecilantrocayman.com
Tukka Restaurant, East End or West Bay
If you're craving cuisine from Down Under, then you don't need a Qantas ticket, simply head to Tukka in East End, or their location at Morgan's Harbor, West Bay where there's great food served with a laidback oceanfront atmosphere. Tukka West introduces some new inventive mainstays, including sharing plates and charcuterie boards. Tukka's team continue to promise patrons the freshest local seafood in both locations - and you can actually watch the catch of the day uploaded by local fishermen at Tukka West's onsite dock. (345) 947-2700  www.tukka.ky